Apple Coffee Cake Recipe
Custom Search
Apple Coffee Cake Recipe

Tips on Baking Coffee Cake Recipes


3 large eggs
2 cups sugar
1 cup vegetable oil
3 cups all-purpose flour
½ teaspoon salt
1 teaspoon baking soda
2 teaspoons vanilla
3 cups chopped apples


Preheat the oven to 350 degrees. Grease a loaf pan. Beat together the eggs, sugar and oil. Sift together the flour, salt and baking soda. Combine the two mixtures until well blended. Stir in the chopped apples. Pour into prepared pan and bake for 30 minutes or until cake tester comes out clean. Make icing and pour over the top.



Icing:
1 stick butter
1 cup brown sugar
½ cup evaporated milk Mix all ingredients in a saucepan. Bring to a boil and boil for 2 ½ minutes, stirring constantly. Pour over the coffee cake.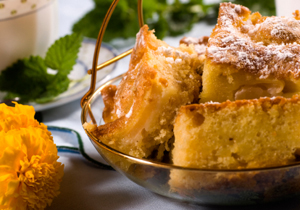 ---
Leave Apple Coffee Cake Recipe and return to "A" Cake Recipes

Leave Apple Coffee Cake Recipe and return to CakeRecipes-r-us.com-Home
---