Cherry Cream Cheese Coffee Cake Recipe
by devraj
(bkn,rajasthan,india)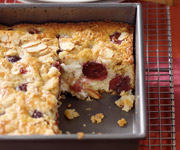 Ingredients
Streusel:
1/4 cup all-purpose flour
2 tablespoons granulated sugar
2 tablespoons light brown sugar
2 tablespoons cold butter, cut into small pieces
3 tablespoons sliced almonds

Cream Cheese:
4 ounces light cream cheese (Neufchatel), softened
3 tablespoons granulated sugar

Cake:
1 1/4 cups all-purpose flour
1 teaspoon baking powder
1/4 teaspoon salt
6 tablespoons unsalted butter
2/3 cup granulated sugar
1 egg
3/4 teaspoon vanilla extract
1/4 teaspoon almond extract
2/3 cup 2% reduced-fat milk
2 cups pitted cherries (about 10 ounces)



Instructions

1. Preheat oven to 350F. Coat a 9-inch square baking pan with cooking spray.
2. To prepare the streusel, combine flour, granulated sugar and brown sugar. Cut in butter with a pastry blender or two knives until crumbly. Stir in almonds.
3. To prepare the cream cheese, combine cream cheese and granulated sugar; stir until smooth.
4. To prepare the cake, beat butter, granulated sugar, egg, and vanilla and almond extracts until evenly blended. Turn to low speed, add flour, baking powder and salt alternately with milk; beat until blended. Pour into prepared pan. Top with small spoonfuls of cheese mixture. Top with cherries and sprinkle with streusel.
5. Bake 50 minutes or until cake begins to pull away from sides of pan. Cool on wire rack. Serve warm. Serves 9.
Recipe by Jean Kressy, "Relish the Season," July 2007.


Nutritional Information
Per serving: 290 calories, 13g fat, 5g prot., 41g carbs., 2g fiber, 200mg sodium.