Chocolate Kahlua Cake
by Brittany
(Chicago )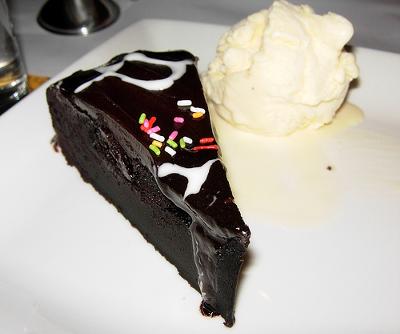 1 chocolate cake mix (I use Pillsbury Plus)
1/2 c. vegetable oil
1 box instant chocolate pudding
4 eggs
3/4 c. strong instant coffee (made with 2 tsp. coffee with 1 c. water; cool before adding)
3/4 c. creme de cacao or Kahlua or coffee liqueur
1 c. sifted powdered sugar
2 tbsp. cooled coffee
4 tbsp. creme de cacao, Kahlua or coffee liqueur

Combine first 6 ingredients and beat for 4 minutes. Grease and flour a tube pan. Bake at 350 degrees for 45 minutes. Check for doneness with a toothpick which must come out clean. Cool.

Combine the following in a small bowl: 1 cup sifted powdered sugar, 2 tablespoons cooled coffee, 4 tablespoons creme de cacao, Kahlua or coffee liqueur; mix well.

Use a short skewer to poke holes in top of cake and let this mixture drip in. It is not a glaze. Dust with confectioners' sugar for an attractive finish. Serve with your favorite ice cream. A chocolate lover's delight!
Join in and write your own page! It's easy to do. How? Simply click here to return to Share Your Cake Recipes.