Black Fruit Cake

Print this Recipe for Black Fruit Cake

1+1/4 pounds flour

1+1/4 pounds sugar

1 pound butter

14 eggs

3/4 cup dark molasses

5 teaspoons of baking soda in 1 tablespoon of water

3 tablespoons cinnamon

3 tablespoons allspice

1 tablespoon mace

1 tablespoon nutmeg

1 teaspoon cloves

1 tablespoon vanilla

1 cup grape juice or black coffee

6 pounds raisins

2 pounds currants

1+1/2 pounds citron

1 pound dates

1 pound almonds

1/2 pound candied cherries

1/2 pound candied orange and lemon peel mixed


Prepare all fruits the day before, dredge with extra flour. The raisins should be cut in half. The currants washed and dried. Almonds blanched, dried and chopped. All fruit cut into small pieces to suit the individual taste. Cut the citron in thin slices about as large as the thumb.

Make the cake as any pound cake, add the spices to the flour, mix the baking soda and water into the molasses, and add to the batter. When all ingredients are in, add the floured fruits, mix thoroughly and fill the pans, leaving an inch or little more for rising. Bake at 250 degrees for 3/4 of an hour for every pound in the pan. This recipe makes 14 pounds. It is best to bake in two pans, having deep pans with a tube. Grease and line the pans with two thicknesses of brown paper and then grease the paper.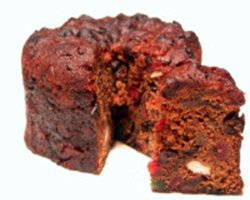 "Southern Cooking," Mrs. R.S. Dull, 1928
---
Return to Fruit Cake Recipes and leave Black Fruit Cake