Frosting Recipes and Icing Recipes
Frosting recipes and icing recipes can range from an easy frosting recipe with only two or three ingredients to a more involved cake icing recipe to make royal icing and fondant recipes.
Frosting and icing are really the same thing; they are both sugary confections that are used to cover a cake after it's baked. Although, when I think of frosting it brings to mind a fluffy frosting such as 7-minute frosting or buttercream frosting. Icing makes me think of recipes that are hard and sugary such as royal icing and sugar paste. Fondant and glazes are also used to cover cakes, but fondant is not frosting or icing; it's a sugary rolled confection.
---
The main thing to remember when covering a cake is that the flavor and texture of the frosting or icing should complement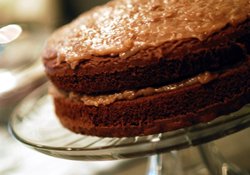 the cake that it's covering. It also should not be so thickly applied that all you can taste is the sugary frosting. Different kinds of cakes have frosting recipes and icing recipes that are traditionally used on them. For instance, what would German chocolate cake be without it's rich frosting of coconut and pecans? In the South, red velvet cake is always paired with cream cheese frosting; and if you're frosting an angel food cake the perfect partner for it is 7-minute frosting or white mountain frosting sprinkled with some coconut.
---
Browse through the frosting recipes and icing recipes available here when you're looking for the perfect complement for the perfect cake!
---
Click on any of the recipe links below to go to that frosting recipe or icing recipe:
Red Velvet Cake Frosting
Red Velvet Cake Icing
---
Return to cakerecipes-r-us.com Home Page and leave Frosting Recipes and Icing Recipes