Christmas Cake Recipes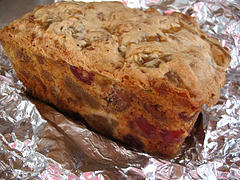 Christmas cake recipes can be simple or very elaborate and, we have some of both! Before you know it, Christmas will be sneaking up on us so, now is the perfect time to go over those Christmas recipes and get the ingredients for your fruitcakes, yule log cakes and layer cakes together and ready to go. The holidays are also a good time to try out some special recipes such as dainty tea cakes. Or, try your hand at decorating cupcakes with a Christmas theme; set the cupcakes on a "cupcake tree" for holiday presentation.

Making your fruit cakes early ensures that they'll be ripe and moist in time for the holiday get-togethers and for giving as presents. Nothing says love more than a wonderful home-baked cake given as a present. Homemade fruitcake is nothing like the pre-made cakes that are in the grocery stores (there's a lot of jokes made about those cakes)! If you've ever been put off by store-bought fruitcake, try a homemade one and taste the difference.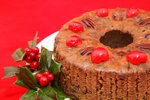 Gingerbread cake is also a classic that's a breeze to put together for those last minute gatherings at the holidays, and kids love to make and eat gingerbread!

cakerecipes-r-us.com has all the Christmas recipes that you need. So, whatever your baking skills, try a fruit cake or another of cakerecipes-r-us.com's Christmas recipes this year for holiday eating and giving; you won't be disappointed!
---
Click on any of the Christmas cake recipes links below to go to that Christmas cake recipe:
Return to cakerecipes-r-us.com Home Page and leave Christmas Cake Recipes