Brownie Cheesecake

Print this Recipe for Brownie Cheesecake

3/4 cup butter

4 squares (1 ounce each) unsweetened baking chocolate

4 large eggs, divided

1 cup all-purpose flour

1+1/4 cups mini semisweet chocolate chips

1/2 cup chopped walnuts, optional

1-8 ounce package cream cheese, softened

1 teaspoon vanilla extract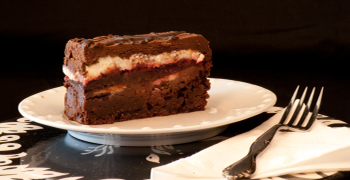 Preheat the oven to 350 degrees. Lightly grease a 9-inch springform pan; set aside.

Place butter and chocolate squares in a large microwave-safe bowl and microwave on HIGH for 1 minute; stir. Microwave on HIGH an additional 30 seconds; stir until chocolate is completely melted. Add sugar and 3 eggs, one at a time, beating well after each addition; blend in flour. Stir in the mini semisweet chocolate chips and the nuts, if using; set aside.

In a large bowl, beat the cream cheese, the remaining 1 egg and the vanilla. Spread half of the chocolate mixture in the prepared pan. Carefully spread the cream cheese mixture evenly over the chocolate mixture, leaving a 1-inch border. Spread the remaining chocolate mixture evenly over the top, all the way to the edges.

Bake for 40 to 45 minutes or until firm to the touch. Cool completely. Store in the refrigerator in a tightly covered container. Serves 12.


---
Return to Best Chocolate Cake Recipes and leave Brownie Cheesecake

Return to cakerecipes-r-us.com Home Page and leave Brownie Cheesecake