Buttermilk Chocolate Cake

Print This Recipe for Buttermilk Chocolate Cake

1 2/3 cups flour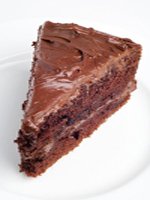 1 cup sugar

½ cup + 1 tablespoon cocoa

1 teaspoon baking soda

½ teaspoon salt

1 cup buttermilk

½ cup vegetable oil

2 teaspoons vanilla


Preheat the oven to 350 degrees. Grease and flour two, 8-inch round layer cake pans.

In a large mixing bowl, mix the flour, sugar, cocoa, baking soda and salt. Add the buttermilk, oil and vanilla and beat until smooth; about 2 to 3 minutes.

Spread in the pans and bake for 20-25 minutes, or until a cake tester inserted in the middle of the cakes comes out clean. Cool in the pans for about 10 minutes and then turn out onto wire racks to finish cooling. Fill and frost with desired flavor frosting.


---
Return to Best Chocolate Cake Recipes and leave Buttermilk Chocolate Cake