Cake Baking Supplies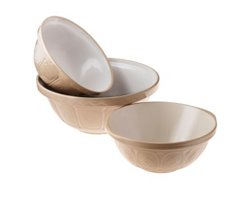 Cake baking supplies make cake baking easier and more enjoyable, and there are some cake baking supplies that you shouldn't be without if you're serious about making great cakes.
Oven
Having accurate oven temperatures is very important when baking cakes. Ovens can lose their calibration, so check yours with a thermometer every few months to make sure that it is still accurate.
Mixers
A hand-held electric mixer is good for most cakes and frostings, but you'll need an upright stand mixer for heavy-duty jobs. I use a KitchenAid stand mixer; I have had it for many years and I can honestly say that it's one of the best pieces of equipment that you can buy for your kitchen. It comes in handy for many other things besides making cakes. Many cakes and frosting recipes consist of two parts that are mixed separately, so it's a good idea to buy an extra bowl with your stand mixer and even an extra whisk and paddle if you can afford it.
Cake Pans
Aluminum pans with a dull finish are the best for baking cakes; try not to use shiny, black or glass pans. Pans with straight sides also make it easier to frost the cake that comes out of it. 9-inch by 1+1/2 inch round pans are the standard size used most often, but there are several other sizes used, as well. A 10-inch (16 cups) tube cake pan with a removable bottom is most often used for bundt cakes, angel food cakes, fruit cakes and chiffon cakes. Loaf pans are used with some cake recipes. Specialty shaped pans can be had from the Wilton Company . Wilton also carries an extensive line of cake baking supplies and cake decorating supplies including supplies for wedding cakes.
Cooling Racks
Any rack can be used for cooling cakes, but the closer together the wire is, the more support it gives the cake while it's cooling. Spray your racks with a non-stick vegetable spray occasionally to keep cakes from sticking; just wipe the crumbs off when you're done using it, no need to wash unless the rack is gummed up with cake crumbs.
Liquid Measuring Cups
I use Pyrex glass measuring cups to bake with; they are well marked, accurate and heatproof. The handles stay cool when holding hot liquids and there is a pouring spout to control the liquid as it's poured. Get several of these in different sizes. I have two 1 cup measures and two 2 cups measures; having multiple measuring cups in different sizes certainly come in handy for a cake recipe that has more than one part to it or for measuring different kinds of liquids for the same recipe. You can also use the Pyrex measuring cups to melt chocolate and butter and reduce some sauces in the microwave oven. You can never have too many glass measuring cups in your cake baking supplies.
Solids Measuring Cups and Spoons
Tupperware solids measuring cups and measuring spoons are a good choice for accuracy and because there are measuring cup and spoon sizes that are not included with other brands. I have had my sets of cups and spoons for many years; they are well worth the cost.
Scales
When it's very important to have an accurate measurement of ingredients, such as when making wedding cakes, it's better to weigh the ingredients so you get a perfect measurement of them. When baking from a recipe that uses the metric system it's especially important to have a metric scale in your cake baking supplies.
Strainers and Sieves
You'll use a strainer to sieve fruits with seeds after they're pureed. A fine-mesh one is good for sifting flour.
Thermometer
When working with foods such as chocolate and sugar syrups you must keep a precise temperature. Use a good quality thermometer and make sure that it's accurate within 1 degree; some thermometers can be off quite a bit! You can check the temperature by immersing in boiling water-the thermometer should read 212 degrees. Always read your thermometer at eye level. Avoid extremes in temperatures when using a thermometer. For example, don't put a hot thermometer in cold water or lay a cold thermometer on a hot stove because this will cause it to crack.
Whisks
Whisks are very helpful for folding ingredients into each other, such as when folding a batter or a dry mixture into beaten egg whites. The use of a whisk instead of a spatula in beaten egg whites keeps the whites from falling as batter is being folded into them. They're also useful for stirring sauces that are cooking to keep them mixed and from sticking to the pan. Get several in different sizes. If you use non-stick pans get plastic covered whisks to avoid scratching the coating off the pans.
Parchment Paper
Parchment paper is used to line bottoms of cake pans and as a triangle filled with frosting when piping decorations on a cake. Cake pans lined with parchment paper will release the cakes flawlessly.
Cake Levelers
These are a serrated blade on a metal frame that has three adjustable heights. This does a much better job of leveling off the top of a cake than just eyeballing it and using a knife. Sometimes your cake is kind of humpy when it comes out of the oven; this baking tool can make them look picture perfect when the cake is to be frosted or iced.
Spatulas
I can't emphasize enough the need to have good spatulas in your cake baking supplies. I love the silicone spatulas because they're heat resistant at high temperatures so, you don't melt them in anything hot, such as sugar syrups. They also last longer than the rubber ones; rubber spatulas have a tendency to crack and break with use.


Return to cakerecipes-r-us.com Home Page