Cheese Cake Recipes
Cheese cake recipes are simple to make. But, they're also easy to mess up by mixing or baking them the wrong way. I'm going to give you some tips for creating a perfect cheese cake recipe that will wow your family and friends; they'll think you bought it at a bakery!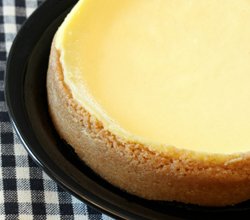 I have always had great success with a New York style cheese cake with a graham cracker crust, but I've made other styles and flavors that have turned out well. For the ones I make for myself, I almost always use the graham crust; I just prefer it to any other. I remember the first cheese cake I ever made many years ago was a Greek honey cheese cake; I was sure that it wouldn't turn out right, but it was extremely good, and looked great, too. They're my favorite kind of cake and that first one gave me the confidence to branch out and try other cheese cakes. Easy cheese cake recipes can be found in many cookbooks. Start with one that you'll like the flavor of and the instructions and ingredients are simple. After a couple of easy cheese cake recipes you'll be ready for some different flavored ones that are more complicated.
How to Make Cheese Cake
There are different kinds of cheese cake-cream cheese or curd style; ricotta cheese cake recipes are a popular creamy style. Cheese cakes can also be made with or without a crust. Crumb crusts can be made with cookie crumbs or graham cracker crumbs; just about any flavor of crumbs can be used. The filling of cheese cake can be flavored with many different things, including fruit purees, chocolate, white chocolate and liquors. There are also any number of different toppings that can be put on a cheese cake; cherries or sour cream are two of the most common. The combinations of crusts, toppings and fillings that you can put together are endless!

When doing a crumb crust you can put crumbs over the whole pan, just up the sides or just in the bottom. When you have a crumb crust, bake it in the oven at 450 degrees for five minutes, and then let it cool before filling with the cheese cake mixture. Baking the crumbs before filling helps to keep them from getting soggy.

Make sure the cream cheese is at room temperature for your cheese cake; this will help it incorporate into the batter more smoothly and prevent lumps. Scrape the beaters and sides of the bowl frequently while mixing your cheese cake to ensure that the stiff cream cheese on the beaters and bowl get mixed into the batter. Mix the batter well, but don't overbeat. If you beat too much air into the batter it will puff up when baking and then collapse. Don't use a food processor to mix cheese cake batter; it will make the batter thin and dense and it won't rise in the oven like it should.

For pretty swirled cheese cake recipes, use a tart fruit puree or melted chocolate.

Put one-third of the cheese cake batter in the pan and then drizzle one-half of the chocolate or pureed fruit mixture over that. Repeat with the remaining batter and fruit puree or chocolate, ending with the batter. Then, using a knife, cut through the batter to make swirls in it.

Cheese cake is really more of a custard than a cake, so crustless cheese cakes bake well in a water bath. To do a water bath, Grease the springform pan and line the bottom with waxed paper. Then, wrap a double layer of foil around the outside of the pan so that none of the batter seeps out. Put the springform pan in a larger pan that doesn't touch the sides of the springform pan. Put two to three inches of water in the larger pan.

Cheese cake recipes can also be baked with the New York cheese cake recipes method. Bake the cake at 500 degrees for 15 minutes, then turn the oven down to 200 degrees and bake about one more hour. When the cake is done baking, turn the oven off, but leave the cake in it. Put a wooden spoon in the oven door so that it's open a little bit, and leave the cake in the oven to cool for one hour.

Cheese cake recipes have to be baked at a low temperature, for the right amount of time, or they will crack on the top or overbake around the edges. Over mixing can also cause cracking and shrinking, as can cooling the cake too fast.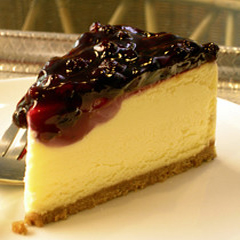 The cheese cake should still jiggle in the center when it comes out of the oven; it won't set up completely until it's well chilled.

Unmolding a cheese cake can be tricky.Wrapping a hot, damp towel around the pan or placing it on a heat source for 10 seconds will usually help release it from the pan. Also, try sliding a long, metal spatula with a thin blade between the cake and the pan to release it.

Cheese cakes are better if they're chilled for at least 24 hours before serving. This improves the taste and density of the cake. Store cheese cake covered, in the refrigerator. Take them out about one hour before serving to soften and bring out the flavors.
---
Click on any of the cheese cake recipes links below to go to that cheese cake recipe:
Return to cakerecipes-r-us.com Home Page and leave Cheese Cake Recipes