Chocolate Bundt Cake

Print this Recipe for Chocolate Bundt Cake

1+1/2 cups butter, softened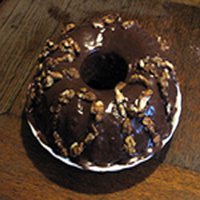 3 cups sugar

2 teaspoons vanilla

5 eggs

1/4 cup hot water

2 teaspoons coffee granules (optional)

1 cup sour milk or buttermilk

2 cups flour

3/4 cup cocoa

1 teaspoon salt

1/2 teaspoon baking powder

Confectioner's sugar


Preheat the oven to 325 degrees.

Cream butter, sugar and vanilla in large mixing bowl for 5 minutes at medium speed. Add eggs, one at a time, beating well after each addition. Dissolve coffee in the hot water; combine with the milk. Combine flour, cocoa, salt and baking powder. Add alternately with milk mixture to creamed mixture, beating just until blended.

Pour into greased and floured 12 cup bundt pan or 10-inch tube pan; bake for 1 hour and 20 minutes. Cool 20 minutes in the pan; remove from the pan and cool completely. Sprinkle with Confectioner's sugar.


---
Return to Best Chocolate Cake Recipes and leave Chocolate Bundt Cake