Chocolate Marble Cake Recipe

Print this Recipe for Chocolate Marble Cake Recipe




2+1/2 cups all-purpose flour

1+3/4 cups sugar

1 teaspoon baking soda

2 teaspoons baking powder

1/2 teaspoon salt

1/3 cup shortening

1/3 cup butter, at room temperature

3 large eggs

1+2/3 cups buttermilk or sour milk

1+1/2 teaspoons vanilla

1/3 cup cocoa

1/3 cup sugar

1/4 teaspoon baking soda

1/4 cup water

Chocolate glaze (recipe follows)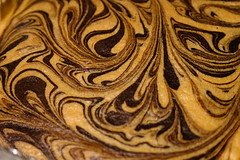 Preheat the oven to 375 degrees. Grease and flour a 9-cup bundt cake pan.

Combine the flour, 1+3/4 cups sugar, 1 teaspoon baking soda, baking powder and salt in a large bowl. Add the shortening, butter, eggs, buttermilk and vanilla; beat on medium speed 3 minutes.

Combine the cocoa, 1/3 cup sugar and 1/4 teaspoon baking soda in a small bowl; blend in the water and 2/3 cup of the vanilla batter.

Pour the remaining vanilla batter into the prepared bundt cake pan. Spoon the cocoa mixture on the top of the batter and swirl through the batter with a knife for a marbled effect.

Bake for 50 to 55 minutes or until a cake tester comes out clean. Cool in the pan for 1 hour. Remove from the pan and cool completely. Make the chocolate glaze and while it's warm, spoon it onto the cake.
Chocolate Glaze
Combine 1/4 cup cocoa, 3 tablespoons water, 1 tablespoon light corn syrup and 2 tablespoons butter in a small saucepan. Stir over low heat until the mixture thickens; remove from the heat. Add 1 cup confectioners' sugar and 1/2 teaspoon vanilla; beat until smooth and thickened.


Hershey's Cocoa Cookbook, Western Publishing Company, Inc., 1979




---
Return to Best Chocolate Cake Recipes and leave Chocolate Marble Cake Recipe