Making a Chiffon Cake Recipe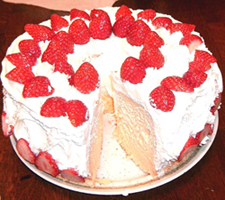 Making a chiffon cake recipe uses a different technique for making than other cake recipes do; chiffon cakes are based on an egg-white foam like an angel food cake but, the way they are mixed together is different. Making a chiffon cake recipe requires the batter to be folded into the beaten egg whites, but, when making angel food the dry flour and sugar mixture is incorporated into the beaten egg whites. Chiffon cakes are as light as an angel food cake and have the richness of a butter cake.
Have all ingredients ready and at room temperature; preheat the oven before starting to mix the cake. Use good quality ingredients and flavorless vegetable oil. Use the correct size pans.



Sift the dry ingredients into a mixing bowl and then add the ingredients in this order: oils, yolks, liquids and flavorings while beating at a medium speed with an electric hand-held mixer or, at second speed on a stand mixer. Add the ingredients in a steady, slow stream while continuing to beat; scrape the bowl several times while mixing. Beat the ingredients together until the mixture is very smooth but, do not overmix.



The egg whites should be beaten until they form soft peaks. Then, beat in the cream of tartar and part of the sugar until they are very stiff; do not underbeat them. They should be beaten until they are a little firmer than for an angel food cake recipe.



Pour the mixed batter in a thin stream over the entire surface of the well-beaten egg whites; fold into egg whites just until blended.



Pour the chiffon cake batter into an ungreased tube pan or, a layer cake pan that has had the bottom greased and dusted with flour but, not the sides, and bake until the surface springs back when lightly touched. Invert the tube pan on a glass bottle and cool.



When cool, run a thin knife between the pan and the cake to loosen and then carefully remove the pan sides and center of the pan. It can now be frosted as desired.
Making a recipe is simple if you follow the techniques and handle the batter as little as possible before baking so that the beaten egg whites aren't deflated. Bake a chiffon cake immediately after making the recipe.
Return to cakerecipes-r-us.com Home Page

Return to How to Bake a Cake and leave Making a Chiffon Cake Recipe