Baking with Kids
Baking with kids can be one of the most rewarding experiences you have with your children. Most children love to create things, so it would be the rare child that didn't want to get in the kitchen with mom and dad and find out what baking is all about. Kids get so excited about their creations; parents can encourage this by letting them help bake a cake. By helping in the kitchen, kids learn the basics of nutrition and cooking which will guide them the rest of their lives. It's also one of the best ways to spend quality time with your youngsters. If your child is really interested in baking, there are kids baking sets that are just like the grown-up kind, only smaller for a child's hand size.

Pick out a simple cake recipe to get them started. There are special kids baking recipes that can be found, or do something like an easy chocolate chip cake recipe that just about every child loves! Simple buttercream frosting that's brightly colored will keep their attention and be fun to frost the cake with. Candies, such as gumdrops, jelly beans and Lifesavers will bring out the artist in every child when they arrange them on the cake after it's frosted.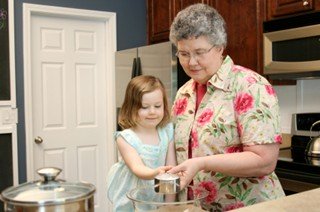 Go through the cake recipe with your child step-by-step and be sure and supervise any contact with the oven. Teach them how to measure correctly with measuring cups and spoons and the correct ways to mix the batter. If you have small children it's best that you use an electric mixer if one is called for.

After the cake has finished cooling, set up a frosting station with bowls of different colored frosting and different colorful, small candies. This is a great idea for slumber parties, also. Just use cupcakes instead of one large cake; each child can have their own little cake to decorate the way they like. And the kids will love eating their frosting art!

So many parents don't get to spend much time with their children these days. Between work, school and activities, family time is put on the back burner. Take some time out of the rat race and spend it with your kids in the kitchen. Your children will be so proud of their baking accomplishments and you'll be creating memories that will last your children and you a lifetime.
Return to cakerecipes-r-us.com Home Page