Chocolate Chip Cheesecake

Print this Recipe for Chocolate Chip Cheesecake

1+1/2 cups Oreo cookie crumbs

3 tablespoons melted butter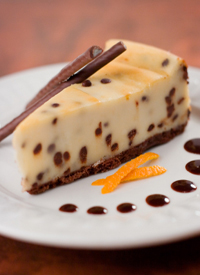 3 (8 ounce) packages cream cheese, softened

1 can sweetened condensed milk

3 eggs

2 tablespoons vanilla

1 cup chocolate chips

1 teaspoon flour

1 cup sour cream

2 tablespoons brown sugar


Preheat oven to 300 degrees.

Combine cookie crumbs and butter; press firmly on bottom of 9-inch springform pan.

In large mixing bowl beat cream cheese until fluffy. Beat in sweetened condensed milk, eggs and vanilla. In a small bowl toss 1/2 cup of the chocolate chips with flour; stir into cheesecake mixture. Pour into the prepared pan. Sprinkle remaining chips on top. Bake 1 hour.

For topping, beat one cup sour cream and 2 tablespoons brown sugar; pour over the cake and cook an additional 10 minutes. Drip melted semi-sweet chocolate over the top. Cool completely on a wire rack. Chill overnight in the refrigerator.


---
Return to Best Chocolate Cake Recipes and leave Chocolate Chip Cheesecake